The Walther PPK was actually a bi-product of my biggest custom to date.

Taking more of a minimalist approach, I created these two nickel plated .45's out of ladder rungs and a coffee stir-straw from Wendys. I used craft glue to seal up the holes (not the barrel) and a silver paint pen to get the finish.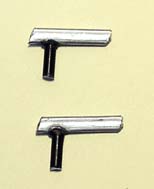 This is a Mossberg custom pump. It has the extended 8 round magazine, pistol grip, and a corrosive-resistant finish. Note the side eject port. That was done by heating a screwdriver and melting the plastic.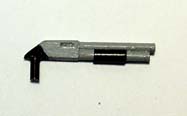 This is the biggie, a custom built attack motorcycle. It is equipped with two front facing .32 cal. machine guns and one rear facing .50 cal. belt feed machine gun.